There is something special about a big band that appeals to everyone, no matter what age. What makes the Martha's Vineyard Swing Orchestra so special is that we cover a broad repertoire of music without losing the element of class. When the MVSO plays, everybody dances! When ten musicians show up in tuxedos and our vocalist steps up to the microphone, the people in attendance know that they are participating in a very special occasion.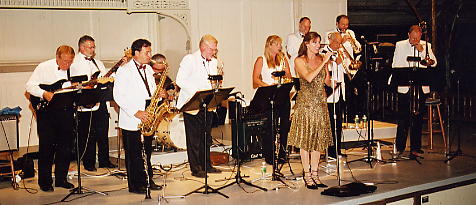 The Big Band Sound For All Occasions
Whether it is a concert, wedding reception, fund-raiser, or other special event, we can accommodate your requirements for musical entertainment. Drawing from an extraordinary group of talented musicians in southeastern New England, we travel throughout the Northeast providing the best in big band sounds for a long list of enthusiastic fans.
The MVSO has an extensive library that includes swing standards, ballads, show tunes, waltzes, Latin, R&B, and rock. We can quickly change moods, tempos, volume, and style to react to the present situation. We can play quiet dinner music or rock the house with a full horn section. Just let us know what you want and we can deliver.